Stress has come about to become a universal ailment. You experience it at the workplace, in personal relationships, at home, at social gatherings, at school and college, and in the daily mad pursuit to prove yourself and achieve goals. We have learnt to live with stress, just as we have resigned ourselves to polluted air and poisoned rivers. Stress works in the same way.
Life is a race and everybody seems to be running it, often without a clear reason. This constant running and mindless chase can get overwhelming for some people, and could lead to depression and anxiety, which if left unattended to, may lead to disastrous consequences such as a complete breakdown.
How to help someone who is stressed?
Stop. Look around you. At your friends, your family members, whatever the age. If somebody shows visible signs of being severely stressed out or burnt out, know that they need help. You could be that person that comes to their aid and gently pulls them away from the precipice of a breakdown. You don't need to be an expert to do your bit; just a human being with empathy. To make it easier for you, here are a few ways you can help someone who is stressed: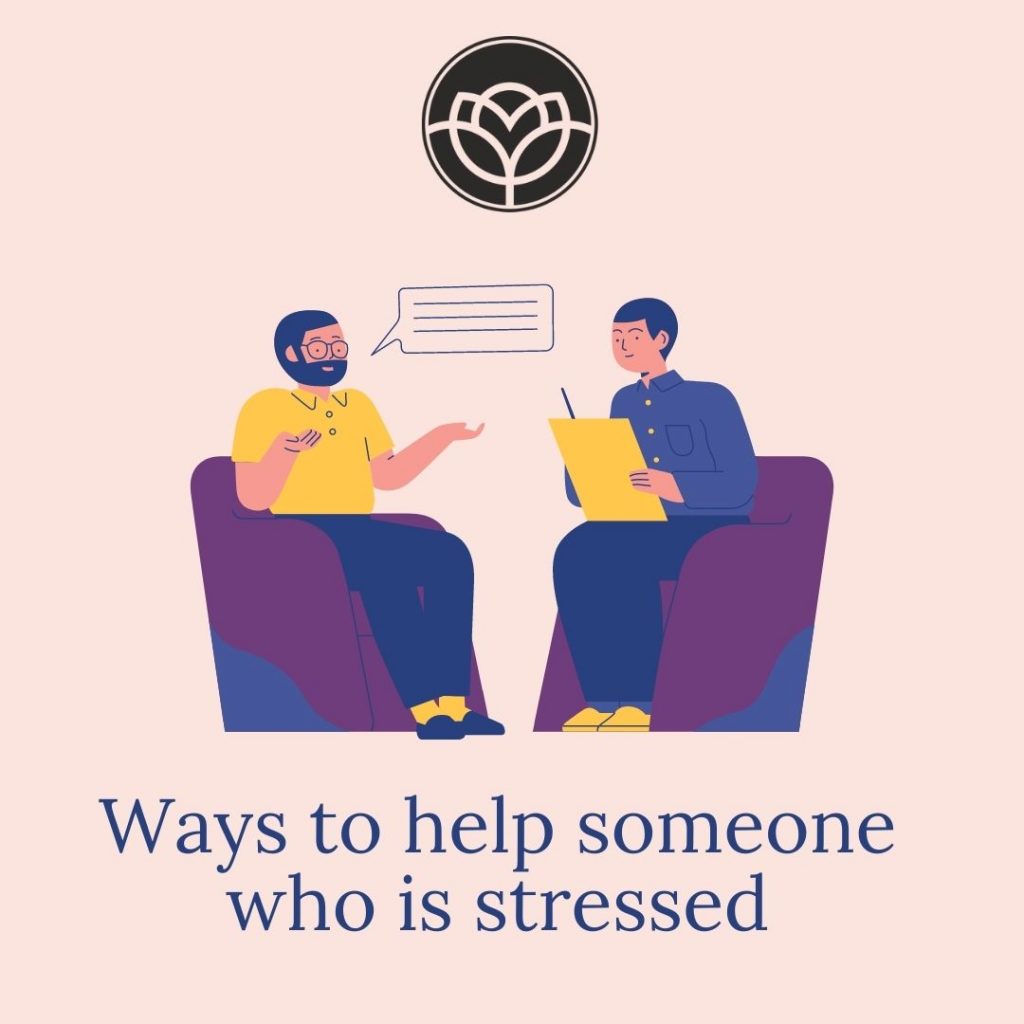 Make time for them
To help someone who is stressed, clear up some time on your schedule, solely dedicated to your stressed friend. Be there. Show up. Stick around. Often, stressed persons don't even realise how badly worked up they are. And you need not make it obvious. A little time and attention from you can help distract your friend from life's problems and feel reassured that somebody does care and watch out for them.
Listen
This is an art that is slowly dying. But you can keep it alive, for your friend. Perhaps they don't have somebody to talk to about their problems, hurdles, anxieties and all the things that keep them up all night. Just like a pressure cooker needs to release its steam, people feel a deep need to be heard, with attention and empathy. While expressing, they could even realise that their issues aren't as grave as they had appeared to be earlier. This release is crucial, so lend your ears for as long as it takes.
Take them out
To the park, for drinks, to a party, for a stand-up comedy show – anything! It is critical to rescue them from the place they seem to be stuck in and oust them into the open world that is alive and throbbing. Not only can going out take their mind off things for a while, it can also help them see that the world is a big place and their problems small in comparison; nothing that cannot be solved with a cool head and a positive approach. A step into the outer world may just give them the perspective and direction they need.
Engage in fun activities
There is no end to the fun you and your friend can have, if you are determined to let them have a good time. You could take them out dancing or join a dance class together. Or book tickets and travel to a picturesque destination for a few days. Make a list of things that your friend likes to do, and use that as reference to plan out your schedule of fun. Having fun will take years off your friend's face and help them lighten up. They could even pick up the habit of engaging in fun activities to maintain a balance in life.
Change their surrounding energy
The energies around us influence us at a sub-conscious level. If your friend has stayed cooped up at home for too long, falling into depression, then it is time to make some changes to the ambience. To help someone who is stressed, help them refurbish their home or room, if possible. You could take on a DIY painting project to colour the walls to a pastel shade or neutral tint, which is calming. Ensure good ventilation and adequate light adding artificial sources like lamps if natural light is not available. Adding plants, fresh flowers and colourful décor can make a huge difference as well.
Motivate them to exercise
When it comes to health and well-being, regular exercise is about as close to a magic potion as you can get," says global spiritual leader, Thich Nhat Hanh. Exercise helps release endorphins that make you feel better and also sharpen your thoughts and memory. Encourage your friend to take up yoga or running, whatever suits their capability. But ensure that they take out at least 30 minutes to workout every day. Join them in the workout in order to help instil the habit.
Highlight the option of seeking professional help
If you feel that your friend's issues are beyond your realm of help, gently nudge them to see a specialist in psychotherapy. You could do this gradually, helping them realise, accept and understand that issues exist, and they can be resolved with the help of a professional.
There is a tremendous amount of good karma that you can accumulate for yourself by lending your support to a friend during a difficult time. And do them a whole world of good! Help them to live light and to stay bright. To not take life or themselves too seriously. After all, Robert Eliot does say, "Rule number one is, don't sweat the small stuff. Rule number two is, it's all small stuff."